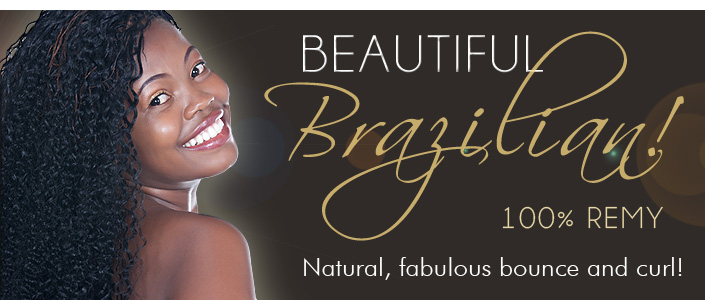 brazilian or remy hair
Brazilian or Remy broadly refers to a particular look, which is more or less the curly Italian look as well as silky Caucasian hair which is slightly mixed with Afro hair or has a loose curl permanent wavy look.
These types of Remy hair, depending on the source and the genetic mix of the person from which it comes, are very flexible in offering different looks, curly and straight, etc. The variety of Brazilian Remy hair we use has a natural wavy look and brings a fabulously beautiful, and bouncy sun tanned, loose permanent wave appearance. No heating or ironing is required for this look, just apply and rock on.
The natural Brazilian or Remy hair is not dipped, not coloured and has had no form of chemical treatment. However this gorgeous more natural-looking, off-black, brownish, sun-tanned colour 1b# or colour 2# looking Brazilian Remy hair originates in Brazil. Read more about other curly hair extensions.
Indian remy hair
At Tulips Africana we provide the best high quality Indian Remy hair, for those interested in weave extensions with an undetectable natural look hair extension. It is a great choice if you want to look beautiful and have your extensions last a long time without tangling or shedding. High quality Indian Remy hair can be expensive, but in the long run, it is a waste of your time and money to wear hair that doesn't add value and deteriorates quickly. Just because it is natural hair originated from India, does not mean that it is of good quality, or that it will last a long time. Unfortunately, some people are supplying very old dry hair at premium prices. If you are serious about looking and feeling beautiful then you want natural, long-lasting hair that does not tangle or shed, is soft with a healthy shine, unidirectional cuticles etc. Then it is important to find the best quality virgin Indian Remy hair.
Extensions for African American Hair
Virgin Indian hair extensions are the unique solutions when you are trying to get your own hair to grow or to recover from damage. At Tulips our highly skilled extensions jobs consume relatively less service hours and leave our customers amazed by the outstanding results. After the extension they often say how it feels like their own grown natural hair, and that is real customer satisfaction!
Here you get your extensions any length and texture that you like as virgin Indian hair is light and blends in more naturally to most hair textures. It will easily last for 3 to 6 months depending on your maintenance and care.
Maintaining your natural hair can often be a challenge especially with the delicate nature of African American hair. Relaxers and colouring often cause breakage, while using proper moisturising shampoos, conditioners, and moisturising sprays boosts its neutrality and healthy texture.
We always advise customer to apply high quality leave-in conditioners and to do deep conditioning every other week. It is also important to avoid products that contain alcohol because it dries out your hair, and petroleum based products which makes it greasy and weigh it down.
Those hair products having the Jojoba oil is important for your scalp to help hair grow in volume. If you suffer from hair breakage and dry hair it often helps take a break from applying all form of chemicals and heat that are used to style your hair.
View our price list for hair extensions
Call on 11sight.com